Denise Rubin Stays on Top of The Charts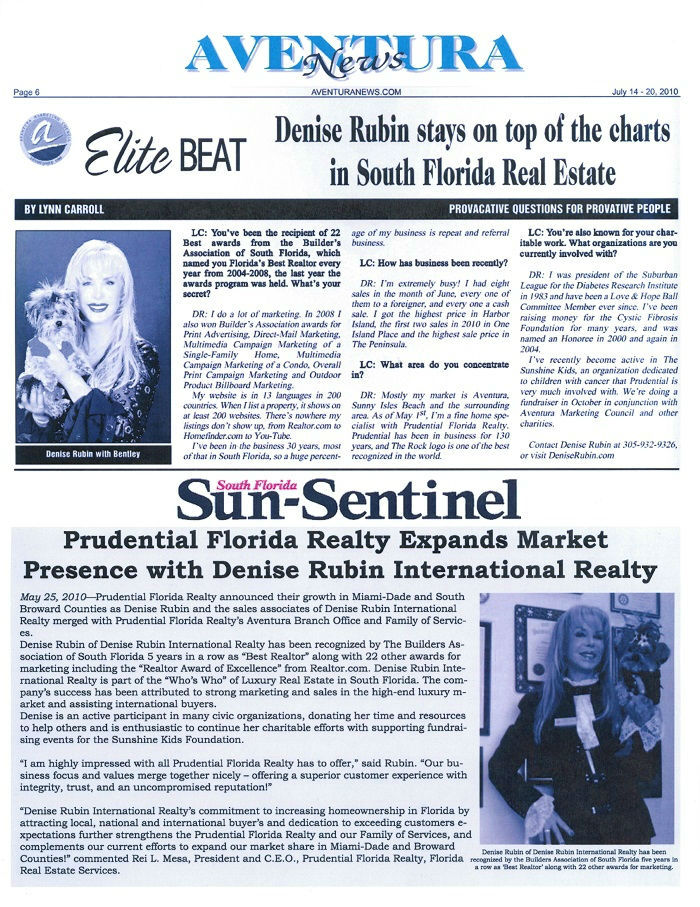 Denise Rubin stays on top the charts in South Florida Real Estate
By Lynn Carroll | Provocative Questions for Provocative People

LC: You've been the recipient of 22 Best awards from the Builder's Association of South Florida, which named you Florida's Best Realtor every year from 2004-2008, the last year the awards program was held. What's your secret?
DR: I do a lot of marketing. In 2008 I also won Builder's Association awards for print advertising, Direct-Mail Marketing, Multimedia Campaign Marketing of a Single-Family Home. Multimedia Campaign Marketing of a Condo, Overall print Campaign Marketing and Outdoor Product Billboard Marketing.
My Website is in 13 languages in 200 countries. When I list a property, it shows in at least 200 websites. There's nowhere my listings don't show up, from Realtor.com to Homefinder.com to You-Tube.
I've been in the business 30 years, most of that in South Florida, so a huge percentage of my business is repeat and referral business.
LC: How has business been recently?
DR: I'm extremely busy! I had eight sales in the month of June, every one of them to a foreigner, and everyone a cash sale. I got the highest price in Harbor Island, the first two sales in 2010 in One Island Place and the highest sale price in The Peninsula.
LC: What area do you concentrate in?
DR: Mostly my market is Aventura, Sunny Isles Beach and the surrounding area. As of May 1st, I'm a fine home specialist with Prudential Florida Realty. Prudential has been in business for 130 years, and The Rock logo is one of the best recognized in the world.
LC: You're also known for your charitable work. What organizations are you currently involved with?
DR: I was president of the Suburban League for the Diabetes Research Institute in 1983 and have been a Love & Hope Ball Committee Member ever since. I've been raising money for the Cystic Fibrosis Foundation for many years, and was named an honoree in 2000 and again in 2004.
I've recently become active in The Sunshine Kids, an organization dedicated to children with cancer that prudential is very much involved with. We're doing a fundraiser in October in conjunction with Aventura Marketing Council and other charities.