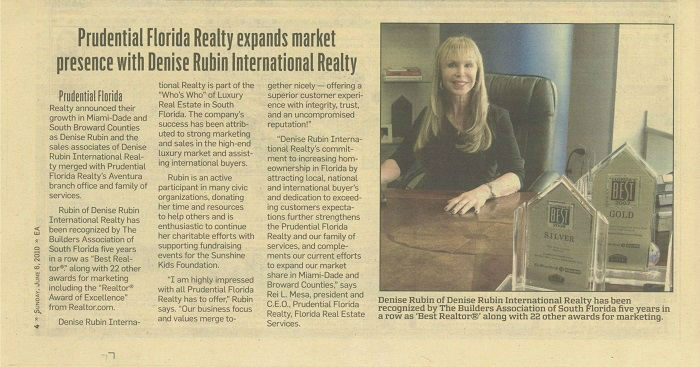 Prudential Florida Realty Expands Marketing Presence with Denise Rubin International Realty
May 25, 2010 – Prudential Florida Realty announced their growth in Miami-Dade and South Broward Counties as Denise Rubin and the sales associates of Denise Rubin International Realty merged with Prudential Florida Realty's Aventura Branch Office and Family of Services.
Denise Rubin of Denise Rubin International Realty has been recognized by the Builder's Association of South Florida 5 years in a row as "Best Realtor" along with 22 other awards for marketing including the "Realtor Award of Excellence" from Realtor.com. Denise Rubin International Realty is part of the "Who's Who" In Luxury Real Estate in South Florida. The company's success has been attributed to strong marketing and sales in the high-end luxury market and assisting international buyers.
Denise is an active participant in many civic organizations, donating her time and resources to help others and is enthusiastic to continue her charitable efforts with supporting fundraising events for the Sunshine Kids Foundation.
"I am highly impressed with all Prudential Florida Realty has to offer," said Rubin. "Our business focus and values merge together nicely – offering a superior customer experience with integrity, trust, and an uncompromised reputation!"
"Denise Rubin International Realty's commitment to increasing homeownership in Florida by attracting local, national and international buyer's and dedication to exceeding customers expectations further strengthens the Prudential Florida Realty and our Family of Services, and complements our current efforts to expand our market share in Miami-Dade and Broward Counties!" commented Rei L. Mesa, President and C.E.O., Prudential Florida Realty, Florida Real Estate Services.